Pattaya —
The following are just ten of the Songkran festival sites that will be taking place in and around the Pattaya area this year for the first full Songkran since 2019 after years of pandemic restrictions.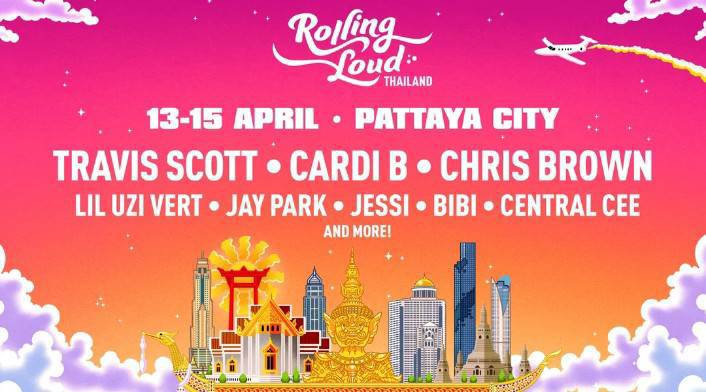 The first event and probably the most iconic one is definitely the ultimate hip-hop festival "Rolling Loud Thailand." The event which ranges from April 13th to 15th features an incredible lineup of world-renowned hip-hop artists from America, Canada, Asia, and more, including Travis Scott, Cardi B, Chris Brown, Jay Park, BiBi, Jessi, and Big Naughty.
Rolling Loud will be organized at the Legend Siam Pattaya venue right in Pattaya. It is easily the most anticipated event that will happen along with Songkran, so don't miss it!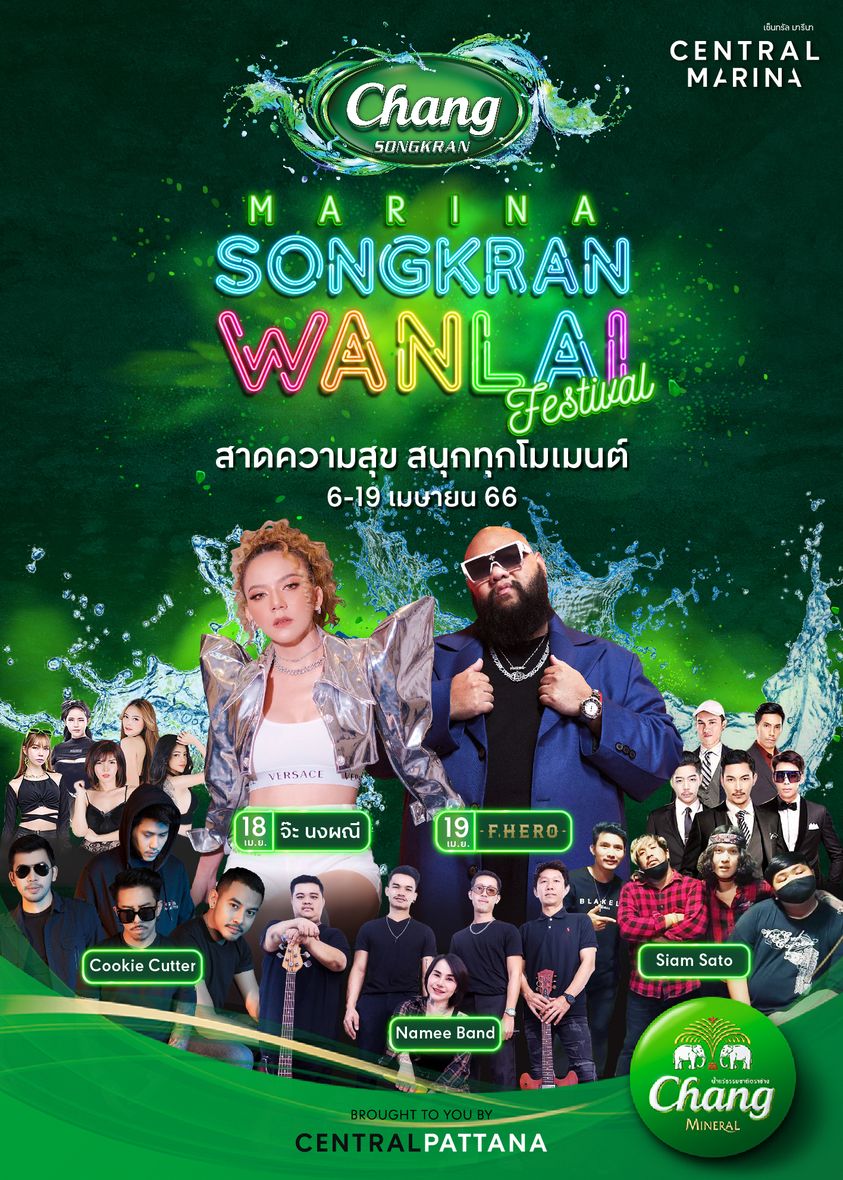 2. Wan Lai Festival at Central Marina
Central Marina Pattaya is bringing back its "Marina Songkran Wan Lai Festival," a music event that promises to be electrifying and filled with non-stop entertainment.
Pattaya Central Marina said they will take festivities to another level by bringing in top artists to entertain the crowds including "F. HERO" the most iconic rapper in Thailand who will be taking the stage on April 19th.
The festival is set to take place from April 6th and will continue through to April 19th. Over the course of 13 days, attendees can expect non-stop entertainment from several other artists all taking place at the Marina Market on the 1st floor.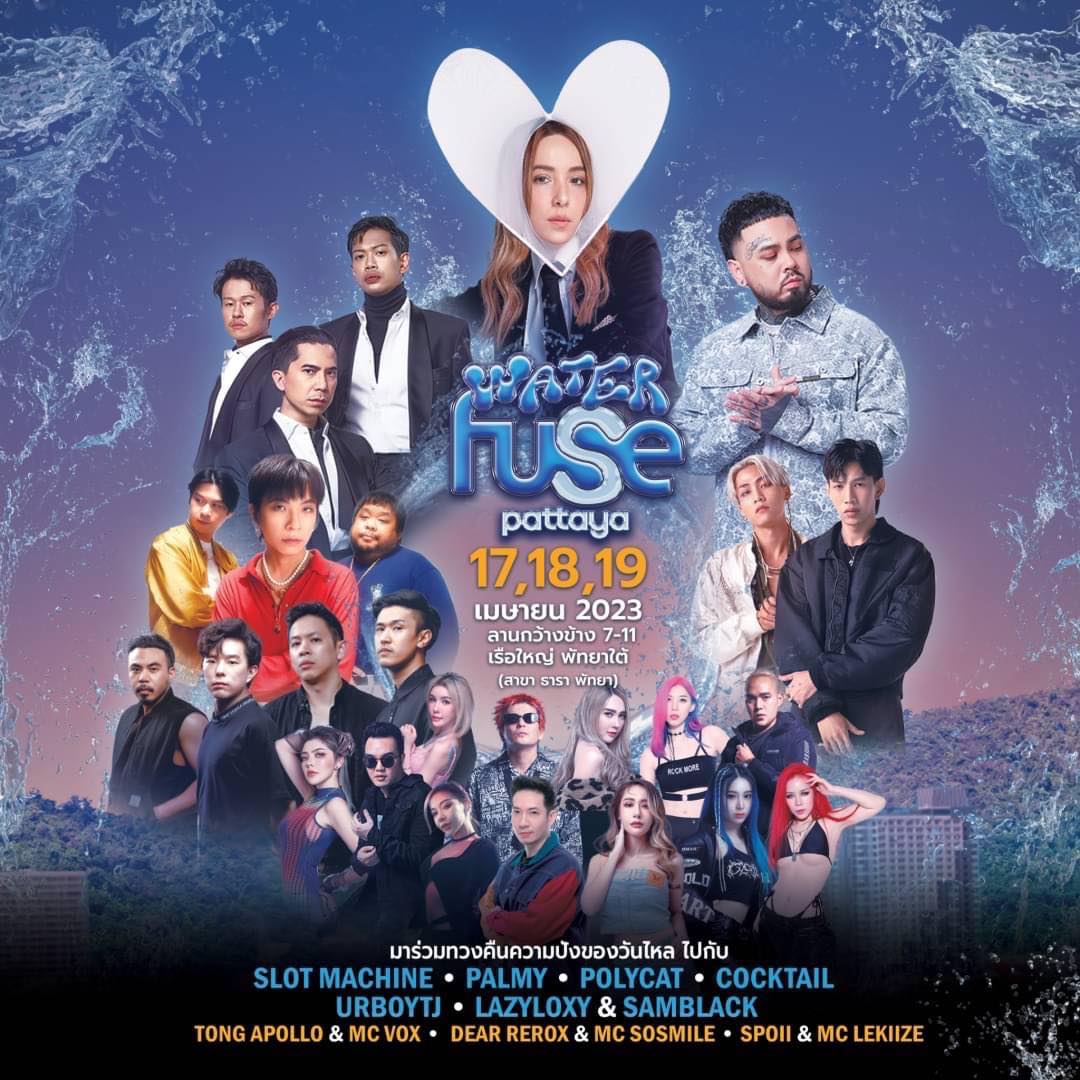 Come and join another music festival in Pattaya that features a combination of music, drinks, and dance, all in one place! Water Fuse Pattaya will take place from April 17th to 19th, in South Pattaya.
Get ready for 3 days and 3 nights of non-stop fun with 20 of the hottest artists of the moment, including:
Lazyloxy x Samblack & URBOYTJ, DJ Mirinda & MC Coga, and DJ Tong Apollo & MC Vox.
Palmy & Cocktail, DJ Riviere & MC Miu, and DJ Dear Rerox & MC Sosmile.
Polycat & Slot Machine, DJ Space Monkey & MC Pam, and DJ Spoii & MC Lekiize.
Tickets are now on sale!
The Terminal 21 Pattaya shopping center invites everyone to participate in celebrating the traditional Thai festival of Songkran in "Isaan Banhao" style, featuring Morlam music, water splashing, and traditional Thai culture.
Enjoy the holy water pouring ceremony, as well as delicious local food and shopping while having fun at the indoor water park and watching mini-concerts by famous artists.
Date: April 11st-23th
Location: G-Paris floor and the mockup runway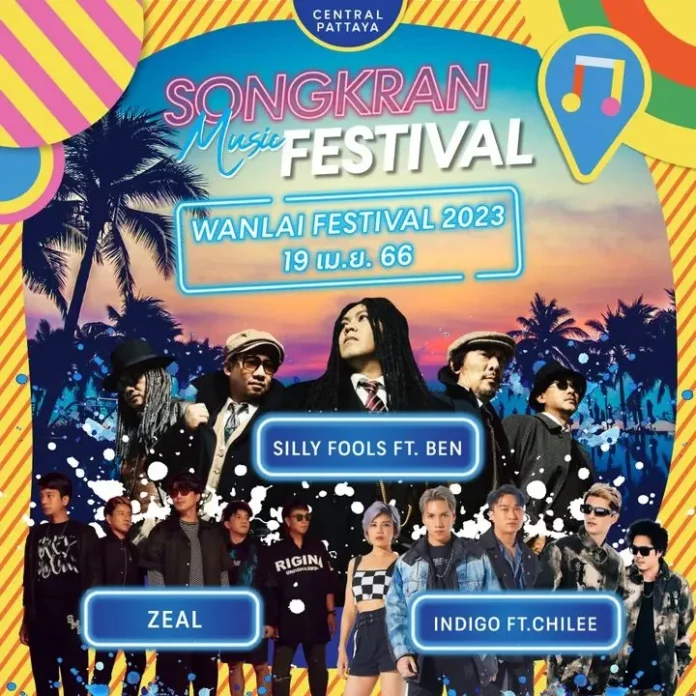 Central Mall is bringing back Songkran along with some of the hottest concert lineups such as Bowkylion, Zom Marie, Zeal, and Silly Fools!
Admission is free and the concerts will be held in the sunken zone in front of Central Mall on the Beach Road side. Be warned that you are very likely going to get wet at these events, especially on the final day, Wan Lai, on April 19th, so dress preparing to be soaked!
Differ Pattaya is going all out to provide the best entertainment with world-class DJs and leading Thai DJs who will create fun for everyone throughout the four-day event from April 16th-19th at Differ Summer Festival'23!
Tickets are now available. ฺDon't miss this incredible opportunity to dance the night away to world-class DJs and the best electronic music around!
Get ready for your ultimate Songkran experience at Ramayana Water Park. This Songkran, come and have fun at Ramayana Water Park with Special Shows, Fun Activities for Kids, Free Water Guns, Songkran Promotions, Foam Parties, Live Music, DJs and unlimited water fun.
Activities:
Enjoy special shows, fire shows, Hawaiian dances and cover dances
Unlimited activities for children to enjoy all day. Cool face painting, let your children become everything they want to be, whether it's an angel or a hero!
Exclusive promotions: Songkran group package – the more you buy, the lower the price! Also, children under 106 cm have free entrance to the water park!
Dance at their foam parties with DJ Roky and DJ Justin
Free water guns and unlimited water fun for everyone!*
Enjoy and sing together with live music from Smotos band
Have the best Songkran with your family and friends in the best water park in Thailand.
Super Offer Children under 106 cm can enter our water park for free.
Book now: https://ramayanawp.com/3KjBMOt
The water park is open every day except Wednesday. Also, they are open on 12 April 2023. 11.00 a.m. to 6.00 p.m.
8. Columbia Pictures Aquaverse
Get ready for an EPIC Songkran Festival at Columbia Pictures Aquaverse – the world's only Columbia Pictures movie-themed water park!
Join them from April 12th-17th for the biggest and safest water fight, exclusive mini-concerts, free surfing, a floating cinema, famous mascots, and more!
And don't miss out on their exclusive promotions with Songkran tickets, VIP packages, and FREE cabanas, food, and drinks. Plus, children under 3 years old enter for FREE!
Book your tickets now at: https://bit.ly/Aquaverse_SongkranFestival2023
and experience unlimited water, daily foam parties, and chances to win prizes on their Wheel of Fortune
Columbia Pictures Aquaverse is open every day from 10:00 – 18:00 hrs during Songkran period, including Wednesday April 12th 2023.
Call: 033004999 for more information
9. Wan Lai Naklua and Pattaya
Wan Lai Naklua will take place on April 18th and 19th starting at 7:00 AM in the Naklua area at Lan Pho Park and all day on Pattaya Beach Road on April 19th. The activities will include offering food to the monks, pouring water onto Buddha statues, and giving gifts to the elderly at Lan Pho and on the 19th will include traditional activities at Wat Chai, a Budda relic parade, and many concerts and activities and water fights on Beach Road.
Please note that Pattaya authorities will impose a road closure to traffic along Beach Road from basically the entire road on April 19th for the festival. In fact, the city will be so busy this day that getting around will be nearly impossible.
Selling and playing with powder, as well as using high-pressure water guns, are also prohibited for safety reasons. Moreover, setting up tables to sell powder and water guns on sidewalks and public areas is strictly forbidden. A fine of 2,000 baht will be imposed for violation.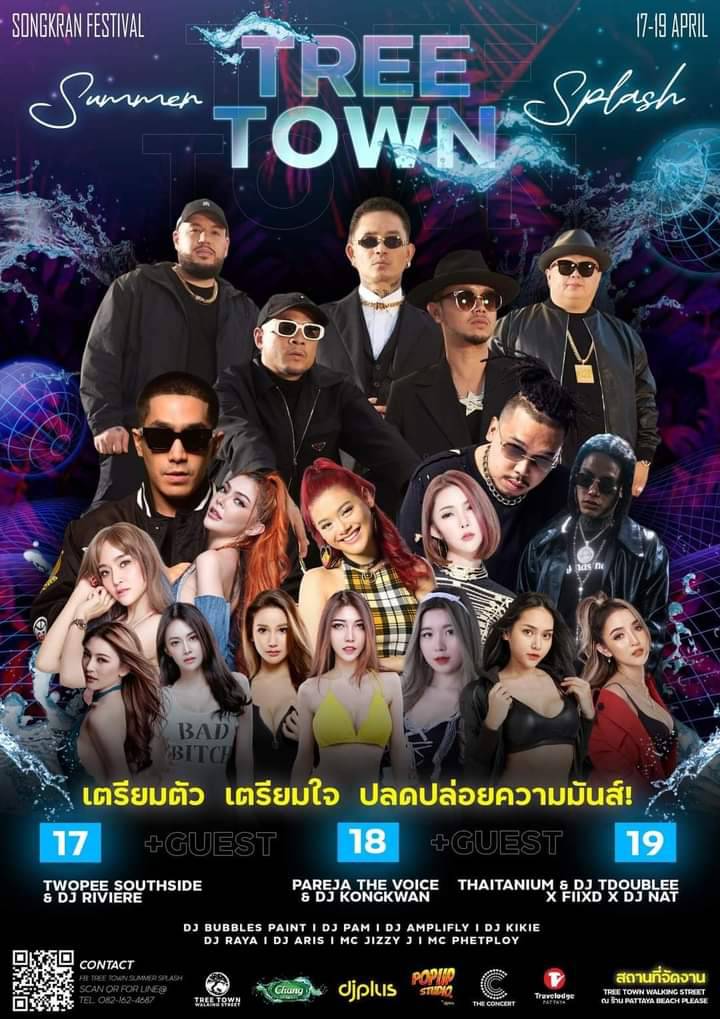 10. Pattaya Beach Treetown Party
Last but not least, unleash the fun at "Pattaya Beach Please" with the much-awaited Songkran Tree Town Splash event featuring a water-splashing and a foam party!
Be ready to witness top-notch DJs and performers with a spectacular light and sound system that will rock Tree Town from April 17th-19th.
Lineup:
April 17th, 2023: Twopee Southside & DJ Riviere
April 18, 2023: Paerja The Voice & DJ Kongkwan
April 19, 2023: Thaitanium & DJ TDoubleE x FiiXD x DJ Nat
Special guests: DJ Pam / DJ Amplifly / DJ Bubble Paint / MC phetploy / MC Jizzy
3 Days Pass tickets are now available for only 1,359 baht.
How to buy:
Line: @pattayabeachplease
Facebook: Tree Town Summer Splash
Website: https://www.theconcert.com/treetown/pattayabeachplease
The original version of this article appeared on our sister website, The Pattaya News, owned by our parent company TPN media.
-=-=-=-=-=-=-=–=-=-=-=-=-=-=-=
Have a General news tip, press release, question, comment, etc? We are not interested in SEO proposals. Mail us at Tips@ThePattayanews.com