Pattaya –
Pattaya is continuing to hold Pattaya Countdown 2022 events, with Mayor Sonthaya Khunplume reassuring the public and business owners today, December 26th, 2021, that despite concerns from some officials, doctors, and scientists that the scheduled events in Pattaya will take place, including a Koh Larn Countdown.
Pattaya is scheduled to hold three major countdown events sponsored by the city/government/tourism associations and partners. Two are three-day events from December 29th-December 31st at Bali Hai Pier and the Mapprachan Lake area and one will be on Koh Larn.
Although Bangkok canceled all its government New Year's Countdown events (including religious) earlier last week due to concerns of the Omicron Covid-19 variant, the Center for Covid-19 Situation Administration has allowed individual areas to make decisions on their events.
According to Pattaya City Mayor Sonthaya Khunplume, all events will continue in Pattaya for several reasons. These include the fact that Chonburi is now the most vaccinated province in Thailand according to the Department of Public Health as of last week, with Pattaya leading the way, and that Pattaya has been holding weekly events since November 1st with no major problems or issues. Mayor Sonthaya feels confident in strict disease control measures (see rules below) for the events and they will continue.
This helped reassure nervous business owners, especially from hotel associations, who have fully booked hotels and venues for later this week. Private sector countdown events, such as at Central Festival and Terminal 21, have also stated they plan to continue as of press time.
The countdown on Koh Larn will be held at Na Barn Pier on the night of December 31st.
Schedule for the event and concerts on Koh Larn
7:30 P.M.: Any way (House band)
9:00 P.M.: Tom Somchay
10:45 P.M.: Paradox
11:45 P.M.:  prepare for KOH LARN COUNTDOWN 2022
00:05 A.M.:  Fireworks shows
00:15 A.M.:  Event end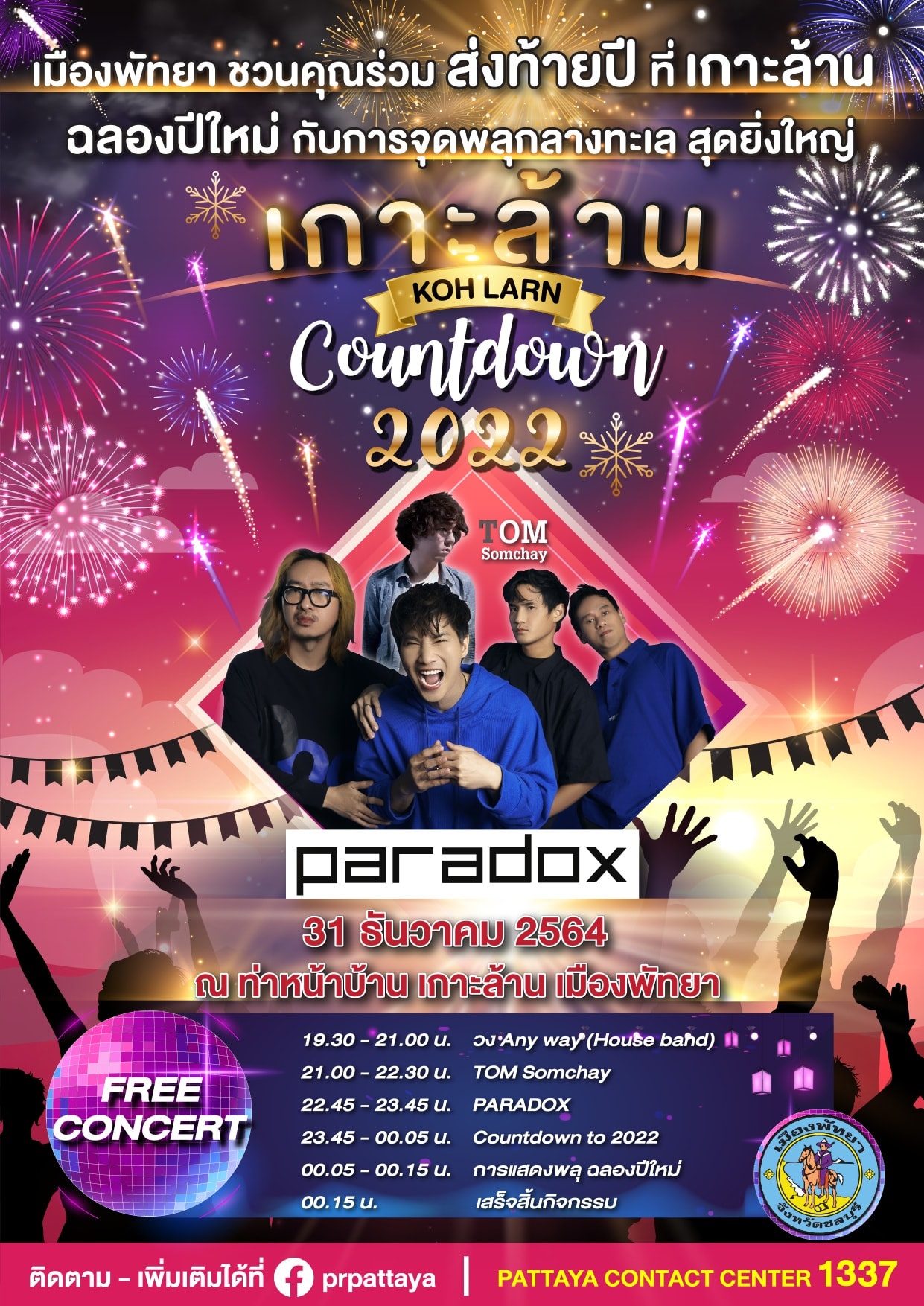 Mapprachan Lake Wonderful Countdown Event in Nongprue:
Wonderful New Year's Countdown 2022 to be held in Nongprue at Mapprachan Lake
Schedule for the event at the Bali Hai Pier
PATTAYA​ COUNTDOWN​ 2022​ officially announced with full concert lists
RULES: Pattaya City has announced people who want to join in the Pattaya Countdown 2022 festival concerts at Bali Hai Pier on New Year's MUST complete double doses of Covid – 19 vaccines AND show proof of a recent Covid-19 ATK test.
Pattaya City announces strict New Year's Countdown festival rules-only double vaccinated AND recently tested for Covid-19 can attend